Hi Reader,
Mom, can we leave now. This is boring.
Really? I take them on a field trip and that's what they say?
So maybe a science lab surrounded by bags and jars of mysterious growing things and talking about "cultures" and spores wasn't exciting to them.
Where were we? In a barn, outside of Quakertown, in the grow lab of Keystone Mycology.
In other words, a mushroom farm. I'd never been to one but I love mushrooms.
My favorite room was the fruiting room - where the inoculated blocks of sawdust and grain hulls start to produce mushrooms.
Pippin and Mattias came in to see but Mattias plugged his nose the whole time. It did smell "mushroomy" and he doesn't like mushrooms. But who could fail to see how interesting mushrooms are!
When it was time to do this video, they'd had enough. They wouldn't come back through the door to be part of the video.
I'll let Courtney tell you more. (oops, I missed my face at the beginning.)
Just growing the spores in a sugar liquid take a month. Only a couple drops are needed to inoculate a jar of organic millet but another two weeks of time. Mixed into a bag of sawdust and soy hulls takes another two weeks before they finally get into that fruiting room. You finally see mushrooms growing in a few days with all that perfectly moist air at the perfect temperature.
The kids said they were surprised that the "farm" was indoors. Mattias thought we'd be tromping around in fields like we do at home. I learned quite a bit about growing mushrooms on the tour.
We are super excited to offer gourmet mushrooms to our farm members and support Courtney's new, local, organic farm - Keystone Mycology. You'll be seeing more of her specialty mushrooms!
Prepared with the cooking tips Courtney shared on the video, we enjoyed delicious pearl oyster and lion's mane mushrooms with supper. Amazing! I can't wait to have more.
We farm indoors too!
While indoor mushroom farming doesn't depend on the weather or the seasons, our farming does. Wednesday we started 6000 seeds, adding to the hundreds of leeks and onions that Farmer Reuben started in the greenhouse at the end of February. Our seeds have to stay on a heated table in the greenhouse until it's warm enough for them to grow outside in the field.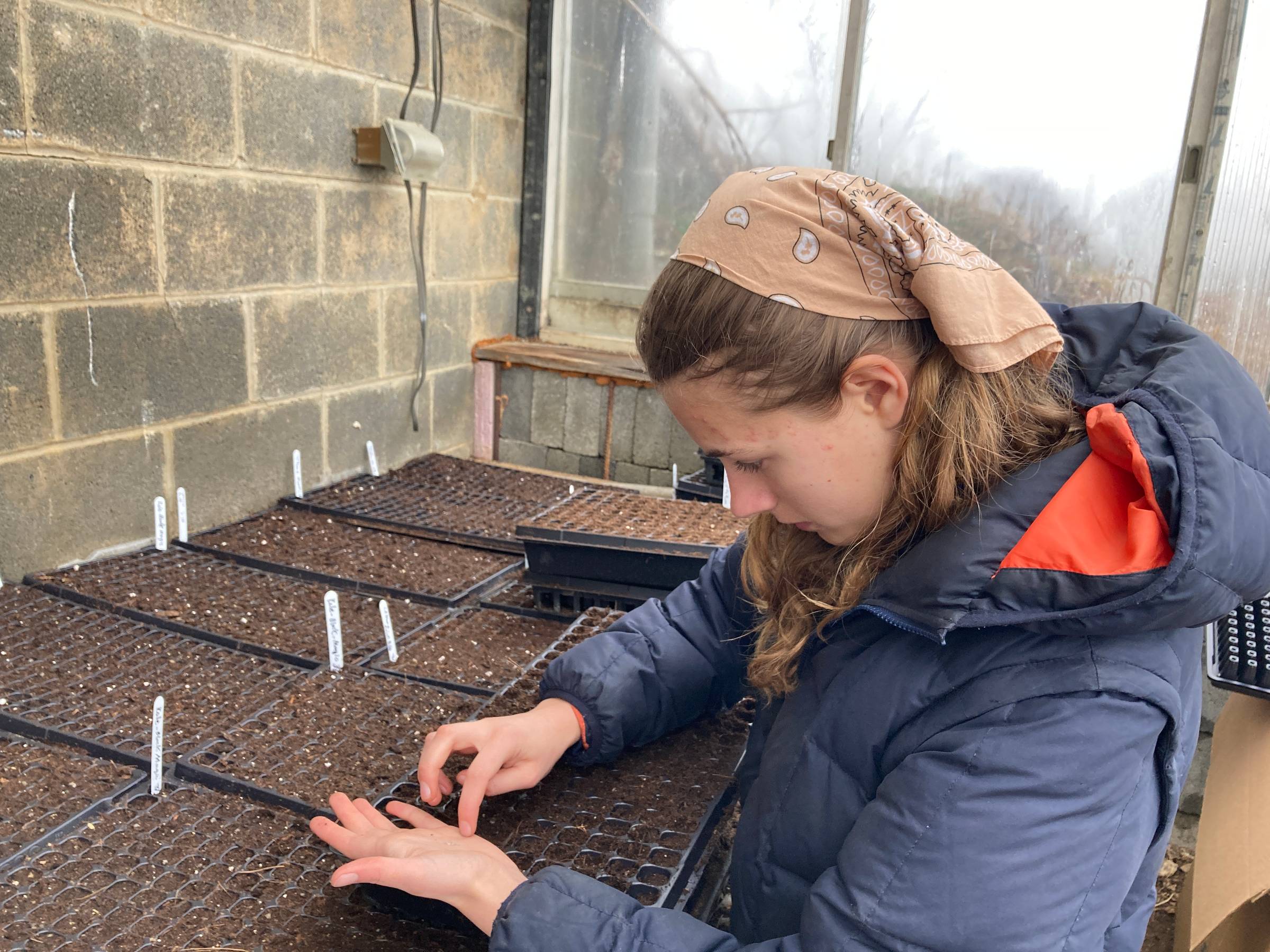 These onions will be planted in the field in mid-April and packed into summer deliveries to members. We hope to have some of these spring greens ready for our spring market boxes in May.
Foster Chicks for Easter
This is the pre-announcement that we are ready to take your chick and duckling reservations. I'll send the official announcement to everyone on my wait list tomorrow at 8 am.
​
​
Don't worry - Spring is Coming!
​
We'll keep farming for you!
Reuben and Tessa DeMaster
​Willow Haven Farm​
​Directions to the farm​
P.S. Next on farm market is Saturday, March 26, 10 am - 1 pm. Next deliveries are Wed. March 9. BUT... NO MORE ONLINE FARM STAND: Join the spring market box subscription to get access to the same great food. It's easier. More convenient. You'll never miss a box. You can skip or cancel any delivery.
​
---
Are you new? More info about our farm:
SPRING & SUMMER MARKET BOX: Get all the details on our website before you make your purchase. See the Market Box options here.​
WHAT'S IN A MARKET BOX? Yep. I get it. You need to know what comes in a box. What's available? What's in season and when? Find out if our MARKET BOX deliveries of local farm food will fit your life and your goals. YES! SEND ME THE GUIDE. ​
NO MORE ONLINE FARM STAND: Join the spring market box subscription to get access to the same great food. It's easier. More convenient. You'll never miss a box. You can skip or cancel any delivery.
FARM STORY VIDEOS: The Willow Haven Farm YouTube channel has fun, informative, and educational videos of our farm life and what organic farming looks like here. Check out it out here >>> VIDEOS!
​
​
​
​Thinking of unsubscribing? current CSA members need to stay connected to our emails but you can limit them to just vital information about your membership by clicking here. ​
​
​
​
​