Hi Reader,
Is having a little farm or homestead a secret dream of yours?
You wouldn't believe how many people tell us their farming dreams when they meet us. We often hear:
"I've always wanted to have a little a farm."

"I spent summers on my uncle's farm and I have such great memories!"

"I wish I could do what you are doing but I know it's hard work."

​
Hard work and starting small
Sure, it's hard work but we started small too. Our kids were 3 and 4 when we moved to the farm and took over my mom's family garden.
We started gardening for our family like our mothers did. One planting of beans and cucumbers, lots of tomatoes and zucchini, some lettuce, usually some corn.
Animals or not?
Farmer Reuben's family never had any animals because his dad grew up on a dairy farm and wasn't interested in doing THAT again. His mom's family only had family dogs and I don't think she really liked them.
They might have seen animals as a barrier to their ability to leave home - which is certainly true. Reuben's parents were school teachers and head of school so they often had meetings and activities that required the family's attendance.
We know that we have to have someone to take care of our animals in order to go on vacation and we have to take care of them late at night, early in the morning or right before we leave if we are leaving the farm.
Organic = animals
"Animals have always been an integral part of farming." Farmer Reuben told his tour groups on last weekend's Open Gate Farm Tour event.
Have you ever thought that animals and plants recycle each other? And they both feed the soil? It used to be that there was no such thing as a farm without animals. Your land was supposed to feed your animals and your animals fertilized your land. Our land has the benefit of cows grazing, pigs rooting and manure from our chickens.
Winter quarters
Now it's time to move our seven pigs and four calves who spent the whole summer in our south pasture, growing strong and getting fat.
"Why didn't you tell me you moved the calves before I went down to bottle feed them?" One of the farm girls accused one day after missing the morning discussion of that very task at the breakfast table.
Not that she's really upset. She is glad they are old enough to graze and don't need a warm bottle anymore.
Our farm visitors helped feed the calves last weekend - a highlight of the Open Gate Farm Tour I think.
It's a beautiful system. I especially love when the cows are grazing at the top of the hill. The blue sky background is magnificent and the whole field benefits as the fertilizer from what the cows leave breaks down and the rain water moves it down the hill.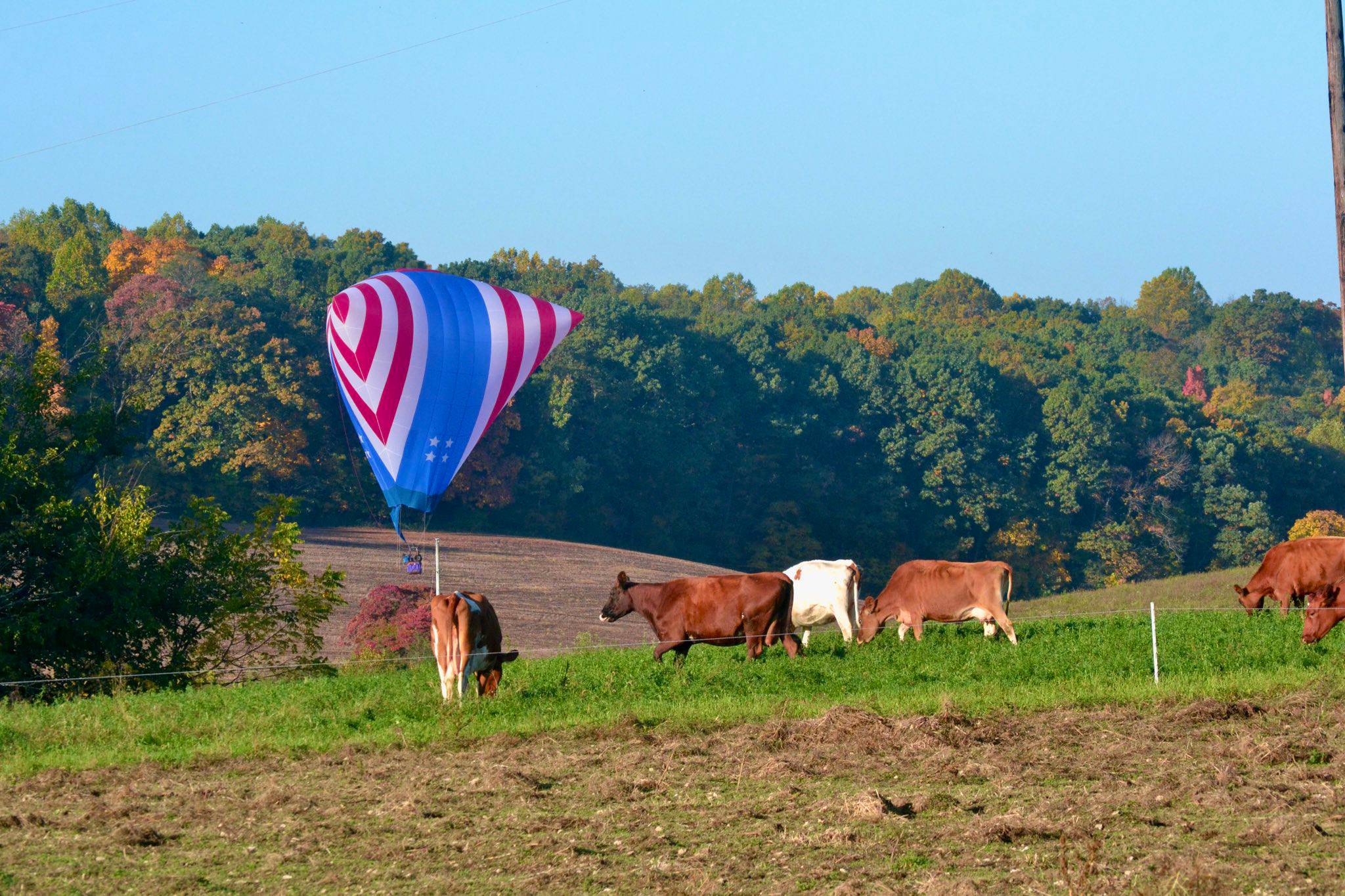 Our neighbor's field is not organic because it lays bare and dead at the end of the season. But it seemed an ideal landing spot for this hot air balloon last Saturday. We all enjoyed getting a close look at the balloon and it sure was exciting to have it land right next to us.
Rural living is wonderful and exciting but it is hard work to take advantage of the opportunities that it brings.
Is this your chance?
I want to let YOU know of a wonderful opportunity to do just that.
What if you had a little land to grow some of your own food?

Is getting away from the rules of your home owner's association that prevent you from having chickens a wish that is growing into a desire.

Do you wonder if your kids would thrive in more rural setting with land to roam and play without ever present and watchful neighbors?

Are you looking for a safe place to retire with the potential for a side business to keep you busy?
​
Our friend, Farmer Dennis, has helped us with many projects on the farm this year and now we are helping with one of his big projects.
>>> He is selling plots of land off his farm that are ready for building. ​
If you've been looking for land you know that this location is ideal, beautiful, convenient and yet off the beaten path.
Even better, it's near great farmers who can advise you as you start out on your homesteading journey.
Get the info here and let Dennis know you are friends of Willow Haven Farm.
You might someday have a duck that makes friends with your pigs!
Have a great weekend!
We'll keep farming for you!
Reuben and Tessa DeMaster
​Willow Haven Farm​
​​
P. S. Keep watch for Summer 2023 Market Box CSA sign ups coming soon! I'll announce it in a Friday email first to reward my loyal readers.
​
​
​
​
​
​Thinking of unsubscribing? current CSA members need to stay connected to our emails but you can limit them to just vital information about your membership by clicking here. ​
​
​
​
​